VINCENT FRAÏSSE WINS THE FINAL X30 SUPER
- Kart-Center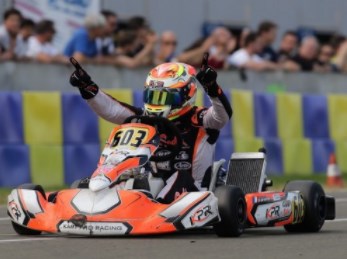 Already winner of the event in X30 Senior, the pilot SODI Vincent Fraïsse has yet put his name to the winners list of this race is very coveted, but this time to a higher level.

Fraïsse was able to be patient and to realize the overtaking at the right time. Because it was 6th in pre-final ! First, it is the French Corentin Collignon, who fell when the Belgian Ulysse De Pauw was regaining its leadership lost at the start. Adrien Renaudin, French also, then passed to the attack, was doing a few laps in the lead, and then relegated to his tower in the face of pressure from the peloton. The end of the race was between De Pauw, Fraïsse and Kevin Breysse, constantly in ambush since the start. In the last laps, Fraïsse was pulling the quintessence of his kart and came in front of Breysse, who resisted until the end to De Pauw. Leader of the chasing pack, Milan Petelet ranked 4th in front of Yann Bouvier.

Also of note is the victorie of Franck Rouxel category X30 Gentleman ! Superb performance !

Congratulations to Vincent and Franck, as well as all of the drivers SODI !